You can
customize web sites
such as facebook,google,youtube. Take out irrelevant content, change colors, or completely redesign the entire site. You can even use the themes on the interface of Firefox, Thunderbird, and SeaMonkey themselves.
First download this package i have compiled here
(don't worry about advertisement on download just click http link)
Next after download completes open up firefox web browser and drag file you just downloaded into
firefox browser window.
you will get a pop-up to install app click install button
Restart firefox if asked......done
How to use
There is now a S logo on the bottom right of your firefox browser
right click on S and navigate to (find styles for this site)
next just type in anything your looking for (example) facebook
you should get a bunch of links like this
next click install with stylish as pictured below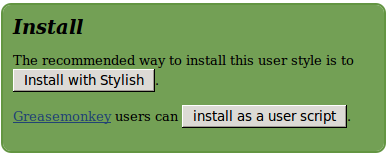 enjoy your new skins

[b][b]